Watch: Suryakumar Yadav stuns with mysterious gesture from dugout after Rohit Sharma ends century drought in 3rd ODI
Updated on Jan 24, 2023 07:18 PM IST
The Indian dugout stood up and clapped at Rohit's Sharma's marvellous century. But while everyone appreciated, one gesture from Suryakumar Yadav left behind a few question marks.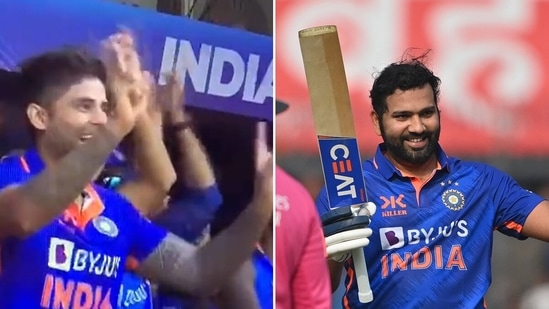 Rohit Sharma ended his century drought, scoring his first three-digit-score in over 500 days. Rohit lost the toss but given how things panned out after his New Zealand counterpart Tom Latham invited the hosts to bat, the India captain had no reason to be upset. Rohit clobbered his 30th ODI hundred, getting there off just 83 balls and put on a fabulous partnership of 212 runs with opening partner Shubman Gill. Rohit and Gill are the fifth Indian opening pair to score a century in the same match.
It was a long time coming but Rohit finally got his much-awaited century. He had gone the entire 2022 without a single hundred in any format and while it wasn't as long as Virat Kohli, the India captain finally got the monkey off his back. Not that Rohit's form was a matter of concern – he was constantly getting starts, hitting 50s, 70s and 80s – a century eluded him, and for a cricket-nation obsessed with stats and centuries, Rohit's knock of 101 from 85 balls will allow him to breathe a huge sigh of relief.
Also Read - Watch: 4 0 4 4 6 4 - Gill decimates NZ's fastest bowler Lockie Ferguson, Rohit can't believe it
As soon as Rohit took the single to complete his 100th run, the Indore crowd erupted and was on its feet to applaud the Indian captain's effort. Even the Indian dugout stood up and clapped at Rohit's marvellous knock. But while everyone appreciated, one gesture from Suryakumar Yadav left behind a few question marks. With a beaming smile on his face, Surya clapped but then made a gesture with his hands, as if signalling a six. Whether he meant Rohit to score more sixes is something only SKY would know, but it was a unique moment nonetheless.
Watch the video:
It wasn't long until Suryakumar himself got the chance to get a big score. And he seemed to be doing so after racing away to 14 off 8 balls. Suryakumar blasted a six over deep wicket and then played his trademark swivel-flick for another maximum. But just when it appeared as if Surya was about to go big, he perished after mistiming a shot to long-on. Surya's wicket left India at 293/5 in 38.4 overs, marginally denting their aim of getting to 400, a total which at one stage looked gettable after Rohit and Gill went hammer and tongs.
India lost the plot after the fall of their first two wickets. Surya, Ishan Kishan, Virat Kohli all tried to play themselves in but looking to play in the same manner as Rohit and Gill cost India dearly. New Zealand fought back with Blair Tickner and Jacob Duffy grabbing two wickets each as India's quest for 400 became tougher with each wicket. A horrible piece of run out between Ishan Ishan and Kohli led to the India wicketkeeper get run out, whereas Virat fell trying to clear the fielder at mid-off. India eventually finished with 385/9 but could have gotten a lot more had it not been for their mini-collapse in the middle over.