Nocturnal Burger review: A rich, layered snapshot of the cost of liberation
Published on Jan 23, 2023 02:33 PM IST
Premiering in the Short Film Program section at the Sundance Film Festival, Reema Maya's second short Nocturnal Burger unfolds over the course of one night at a local police station in Mumbai.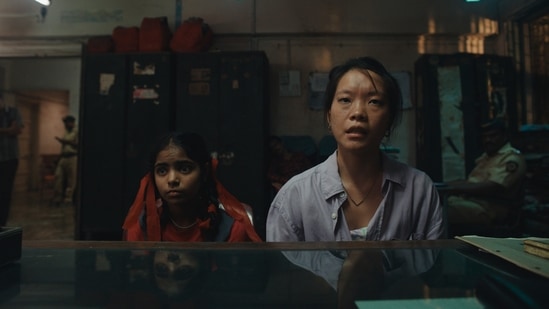 Reema Maya's Nocturnal Burger unfolds over the course of one night and expands itself to larger perspectives of trauma and resilience. One of the two Indian shorts at the Sundance Film Festival this year, Nocturnal Burger is set at a dysfunctional, local police station in Mumbai where the search for justice in a patriarchal, misogynistic society is perhaps a shot aimed at the sky. (Also read: Reema Maya on her second short film Nocturnal Burger premiering at Sundance Film Festival 2023)
A visibly distraught yet firm Simi (Millo Sunka) has come to the police station to lodge a complaint. Along with her she has brought the 13-year old girl called Minu (Bebo Madiwal), and a 30-year old school teacher Sanu (Somnath Mondal). Simi wants to file a case against Sanu who was forcing upon a minor in a moving auto rickshaw that night. This leads a male cop (Shrikant Yadav) and the junior female constable (Trupti Khamkar) to take the account of the story in order to register to complaint. Each one of them are somehow holding on to their own reasons.
As the point of views emerge, Nocturnal Burger permeates into a story that is less interested in showing what happened before, but rather how it invariably follows these individuals after. In not choosing to show the assault, Maya is turning her gaze on the repercussions that follow. Minu's parents are called, and the statement is taken. While all of this takes place, Minu barely responds- she doesn't know what to say or how to explain what has happened. She doesn't know the answer the people around her are seeking. Her language of innocence and exploration comes crashing down.
Harshveer Oberoi's camerawork is evocative in bringing out the dimly-lit police station as a space that witnesses trauma, casual misogyny and uncompromising truths. A small moment when the camera pans out on the faces of a group of transgender women sitting by the corner is telling. Their inclusion enough is a testament to their unheard voices, regularly affected by violence and ostracization. For Simi though, the trail in the course of this single night begins to unravel her in myriad ways, traced superbly in a stylistic, extended sequence that only affirms Reema Maya's singular visual aesthetic in the narrative format of a short film.
At its core, Nocturnal Burger is about female agency and selfhood in a system that misses no opportunity to snatch it. Even the junior female constable has to juxtapose her professional commitments with her personal freedom- she barely has her own word in both worlds. Simi and Minu come from different socio-economic backgrounds, yet they share the same ground of humiliation when they choose to place their selfhood above any other consideration for a moment.
Graced with Maya's fiercely empathetic gaze, Nocturnal Burger is a moving, richly performed snapshot of a society where the idea of female liberation comes at a cost. The momentary space of solidarity between two sexual assault survivors informs the film's raw, uncompromising power.