Shayda movie review: A powerful semi-autobiographical debut for director Noora Niasari
Published on Jan 23, 2023 04:56 PM IST
Shayda movie review: Actor Zar Amir Ebrahimi gives a shattering performance in filmmaker Noora Niasari's semi-autobiographical debut about a mother trying to rebuild her life in a women's shelter in 90's Australia.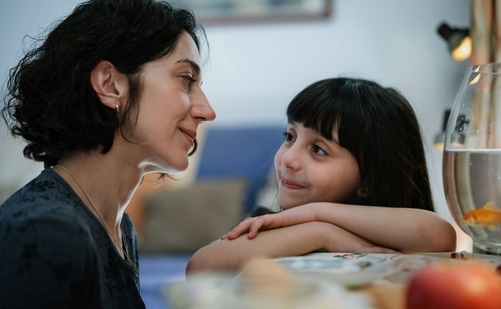 One cannot not reflect on the current situation of women over anti-hijab protests in Iran while watching Shayda, the devastating feature-film directorial debut of Autralian-Iranian filmmaker Noora Niasari. Her protagonist Shayda, played by Holy Spider's Zar Amir Ebrahimi, lets go of the headscarf, cuts her hair short and files a divorce from her abusive husband who has threatened her of consequences if she tries to leave her. (Also read: Nocturnal Burger review: A rich, layered snapshot of the cost of liberation)
Shayda, which premiered at the World Dramatic Competition category at Sundance Film Festival, is based on Noora's own childhood. Set in 1995, Shayda begins with its titular protagonist seeking refuge in a women's shelter with her young daughter Mona (seven-year-old Selina Zahednia). Here she meets the firm and resourceful shelter-director Joyce (Leah Purcell), and the other occupants at the shelter, who are each dealing with some loss.
Soon, we will learn that Shayda had moved to Australia with her husband Hossein (Osamah Sami), who then raped her. So, she took her daughter and escaped somehow. Shayda won't be the victim in her story and sets off to rebuild both her as well as Mona's life from scratch. She seeks divorce on grounds of sexual violence and wants the word 'rape' mentioned in the charges.
Yet, even as she slowly finds some sort of stability in the undisclosed shelter, and slowly discovers her own sense of worth, she knows the solutions are better said than delivered. Hossein still gets visitation rights with Mona, and this would also mean that Shayda has to face him over and over again. It doesn't help when she's trying to build a safe space for herself and her child, and the ongoing legal action has already put her in a compromising situation.
Hossein warns her, "You can't stay here, get your divorce and keep the child." When her mother calls, Shayda is baffled to hear her logic of forgiveness because he's still a good father. Meanwhile, she had also met this young guy in college named Farhad (Mojean Aria) who likes her, but she doesn't know if she's ready to let go of her past this soon.
Even as Shayda becomes a tad bit predictable in the second half, Niasari is still able to pull the immediacy of her character's situations steadily. As upsetting as the subject is, Shayda never turns itself into becoming a rumination on pain. This is a story about resilience and healing, where a woman is reclaiming her identity and language.
Zar Amir Ebrahimi, who won Best Actress at Cannes last year for Holy Spider, gives a shattering performance full of emotional transparency. A scene earlier in the film when she spirals into tears as she thinks Hossein has taken away her child after the brief visit which is shot mostly through a tight closeup on her face- as she expresses fear, regret, pain and desperation- is unforgettable. She is ably supported by the beautifully textured turn from child actor Selina Zahednia. When Mona steadily starts to understand her father's actions, it is heartbreaking.
Shayda could have easily slipped into melodramatic tendencies, but Noora carefully deconstructs the dangers and manipulations that come in the way of her protagonist. In resisting big dramatically charged scenes, Shayda becomes a mature and triumphant portrait of maternal strength. Shayda should be afraid and scared, but she chooses hope and bravery. At the face of destabilizing trauma, that is her win.