Sometimes I Think About Dying review: Belonging is a task in this tender drama
Published on Jan 22, 2023 05:14 PM IST
Sometimes I Think About Dying review: Premiering at the Sundance Film Festival, this tender and delicately realized drama centers on the anti-social and introverted Fran (Daisy Ridley) as she has trouble connecting to people around her.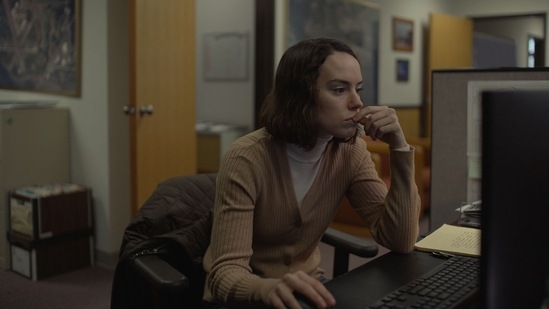 When a senior coworker breaks into tears at the small retirement party at office, Fran (Daisy Ridley) does so much as blink in utter desperation to leave. She takes her piece of cake in the plate and silently makes her way out of the room. Fran is deliberately creating this distance from herself and the world, not because she is excluded, far from it. As Sometimes I Think About Dying will uncover, the anti-social and introverted Fran is caught within her own presumptions of belonging. She's someone who is trying to feel something for a change.
Directed by Rachel Lambert, Sometimes I Think About Dying is based on the 2019 short of the same name from Stefanie Abel Horowitz, that was in turn based on the play Killers by Kevin Armentobegins. It begins with meditative shots of the seaside town of Oregon coast. Some apples that have clogged the sewer gate on the street, a flock of pigeons in front of a yard, and the blades of grass swaying in the breeze. These are small, languid moments of beauty that occur in close vicinity to Fran, yet she doesn't really know how to appreciate them.
Wisely expanded into a feature film narrative by Stefanie Abel Horowitz, Kevin Armento, and Katy Wright, Sometimes I Think About Dying shows how Fran wants to go about each day without making any extra effort to stay relevant or make an impact of some sort. She wakes up, gets ready, and goes to her work where she glues herself to her cubicle. Then, she comes back home, plays sudoku, puts the microwave on, and goes to sleep early. Her bunch of cheery coworkers go about in ways she cannot get accustomed to. As the day comes to an end, with her barely speaking a word, Fran now thinks of death. What would it feel to not-exist, is something she would want to know.
Things change when a new coworker arrives in the form of cinephile Robert (Dave Merheje), who steadily grows to like Fran. Yet, talking to Fran is an exercise in self-control for Robert, as he is the one talking and ultimately, over-sharing. At dinner, when Fran realizes that Robert is seeking answers about her- she swiftly changes the topic and excuses herself from the point of focus.
The beauty of Sometimes I Think About Dying lies in its distance- it never forces out reasons to expand Fran's backstory or justify her actions. What happened to her that she's this reluctant and reclusive? Where is her family? What is she hiding? These questions are of little significance to Lambert as she treats the female isolation and Fran's sense of reality with quiet empathy. Dustin Lane's cinematography often captures the body at odd angles, reflecting the terrifying disconnect from the immediate surroundings. As the persistent gaze proceeds further, it becomes clear how it is as much a deeply sympathetic look at mental health and isolation as it is about the yearning to be understood.
Daisy Ridley plays Fran with sensitivity and poise and elevates the drama by several notches. When Fran finally breaks into a smile or braves to ask about something actively, its a monumental sense of relief, and the actor makes it all work beautifully. Her scenes with Robert, played gracefully by Merheje, are bound to make you root for them. At the end, Sometimes I Think About Dying might seem a little to shy to help our Fran from gaining a better view of herself, but it rewards your attention with a delicately realized finale. It takes a while to see the version of ourselves from the point of view of those who love us. But when it happens, the world becomes a better place to live in. One doesn't necessarily need to change for them to notice, just an embrace is enough. It is not just the thought of death, but the will to live that takes one to see a new day.