Joshimath crisis is due to landslide, not subsidence: Experts
Updated on Jan 25, 2023 08:00 AM IST
There are signs of both subsidence and sliding, according to geologists SP Sati and Navin Juyal, who visited Joshimath to document and investigate the crisis.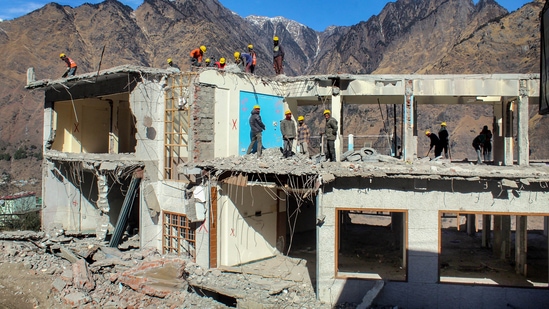 The extensive damage to buildings and other structures in Uttarakhand's Joshimath is due to a gradual but accelerated landslide, and not because of land subsidence, a new analysis by an earth scientist has suggested.
"There is no real doubt that this is a landslide, with the mass slipping down the slope," Dave Petley, vice-chancellor of the University of Hull in the UK, wrote in his American Geophysical Union blog on January 23. "Google Earth imagery clearly demonstrates that the town is built on an ancient landslide."
This could have implications for the range or size of the area likely to be impacted by sliding, which may be larger than the area earlier thought to be subsiding, he said.
A leading Indian geophysicist agreed to this view. "Landslides happen in the slope region. There is both vertical and horizontal movement involved, but in subsidence there is a vertical movement downwards. This is a case of sliding of the region," said Kalachand Sain, director at the Wadia Institute of Himalayan Geology.
Sain on January 14 flagged that it may be incorrect to term the Joshimath crisis a case of land subsidence.
Also read: 1st house collapse in crisis-hit Joshimath
Petley based his view on an analysis by the Center for the Study of the Biosphere from Space (CESBIO), which used Alaska Satellite Facility's web portal Vertex for information on Joshimath.
"There was a sharp increase in deformation rate in October 2021, but there is a hint in the data that this might have started earlier for the point located closest to the river," Petley wrote in his blog. "This might support the suggestion that reactivation of this landslide has been triggered by erosion of the toe, but without a more detailed investigation this is conjecture."
There are many factors that must have contributed to sliding, according to Sain.
"At the moment, we are conducting geophysical studies to see how subsurface factors contributed to cracks on the surface. Toe erosion following the February 2021 floods is one of them," he said. "But there are several others also, which we can identify with certainty very soon."
Snowfall and poor weather in the area is impacting data collection, Sain said. "In a slope region, landslides can happen due to three to four reasons. Rainfall may be a trigger, tectonic movement is another and the third one is human caused or anthropogenic activity. All three are likely," he added.
The sliding is seen at different intensities across Joshimath town, he said. "Some areas are less affected, while some are severely affected. As soon as we have data, we can say how large an area may be sliding," Said said.
There are signs of both subsidence and sliding, according to geologists SP Sati and Navin Juyal, who visited Joshimath to document and investigate the crisis.
"We are mainly seeing subsidence and creeping in several pockets in Joshimath, with the highest impact on the central zone. We are still assessing the factors," said Juyal, former scientist at the Physical Research Laboratory and a member of the expert panel constituted by the Supreme Court to examine the Char Dham roads projects.
"The central zone needs immediate evacuation and rehabilitation in a dignified manner, providing all basic resources to the displaced people," Juyal added.
Also read: Joshimath: Rehabilitation still a tall task for admin
"The toe erosion is very clearly linked to the construction of the Helang bypass under the Char Dham project. If it was known all along that this area is so vulnerable to landslides, how could the government develop it into a high tourist zone with mega projects surrounding it?" asked Mallika Bhanot, environmentalist and member of Ganga Ahvaan, a civil society collective. "There has been blasting and tunnelling, a rail project is coming up and the Char Dham project is cutting across an extremely fragile, landslide prone zone. How?"
On January 18, Petley had referred to a new InSAR analysis that mapped ground deformation using radar images. The analysis indicated that the deformation at Joshimath is sliding, not subsidence.
"The analysis showed that three portions of the landslide complex are currently moving, with the highest rates towards the lower part of the slope," he had written. "The boundaries of the movement coincide with the margins of the landslide blocks identifiable from Google Earth. We would expect to see some of the greatest amounts of building damage occurring around these margins."
Data generated by CESBIO indicates a gradual sliding/ground surface displacement of Joshimath town from 2018 onwards. Joshimath is situated between two important tectonic faults — the Munsiyari thrust to the south and the Vaikrita thrust. It is on a high seismic zone (zone 5).
"Joshimath was developed on landslide debris which took place several hundred years ago. I am not a geologist but from earth scientists I understand that the area is gradually crumbling because of several reasons — it being landslide prone and vulnerable and pressures of development. The sliding and crumbling are uneven now but a larger area is likely to be impacted. We immediately do systematic monitoring of various geological factors in Himalayas particularly areas with large habitations. This is presently not happening. But the government must initiate a serious and continuous monitoring to prevent future events," said M Rajeevan, secretary earth sciences.
Topics